January 9, 2010
In my first race 2010 I could secure the first victory.
The New Years Race in Falkenstein used to be my season opener for several years: In the almost 28 years I've been on this planet I competed 14 times in this race – that's half of my life. Usually the run is a nice built-up for the spring and that might be the reason why today was "only" the third time I won the race.
Conditions were very winter-like with temperatures between -5 and -10°C and some fresh snow. Just like Finland … and I like this kind of weather. I don't like the hills that you have to climb during the race but still I could decide the race after ~15km just before the top of the hill by increasing the pace. I was already surprised that I wasn't alone at this point, but 2nd place Maksym Salii also has some good marathon results under his belt. Anyway, until the finish I could extend my lead to more than 2 minutes – and I even had to tie my shoe laces with 3km to go.
Full results here.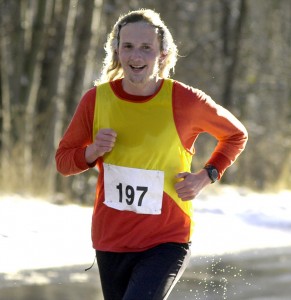 picture from last year when I won the 11,5km distance