September 13, 2010
Time for a personal recap of the German 10K road running Nationals.
The race was held in Ohrdruf, which is only a 1,5h trip from my home, so we went there on race day because the start was scheduled for 19.00. Already in the first races of the day it was obvious that the course was not very fast and only few runners improved their PB.
The start was crowded as usual and even one guy went down after 400m. Very unusual was the start, which took place on a tartan track. From the start I found the right "neighborhood" and could roll with a group. Between km 4 and 8 I felt pretty ok and passed some guys. The last two km I felt that the freshness was missing a bit. With some more 10km-training I could have done better. However, I have to say that currently I'm not playing in the first league in Germany when it comes down to 10K road running. On the other hand I improved a lot in the last 2-3 months and compared to the spring I could decrease the gap to the top runners.
The recovery after the race was pretty good and I feel that the marathon training is starting to work.
Results of the German Championships were already published earlier.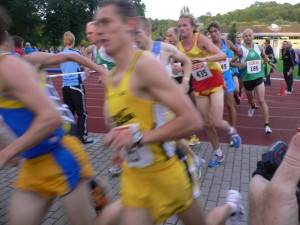 after 800m it was still a lof of pushingand dragging